Several years ago, I was intensively using Pidgin with a lot of satisfaction. When returning to it recently, I realized that Yahoo access was rejected.
This is linked to changes in the way Yahoo specifies its messaging tool nowadays.
Hopefully there are solutions…
When investigating this Yahoo issue, I also found a way to capture Skype chats in Pidgin too…
Informations are coming from Web UPD8 site.
Install
My computer is running Ubuntu 14.04 (which is the minimum required for skype pidgin plugin)
Simply add a new repository, and install appropriate packages:
sudo add-apt-repository ppa:nilarimogard/webupd8
sudo apt update
sudo apt install purple-funyahoo-plusplus pidgin-skypeweb purple-skypeweb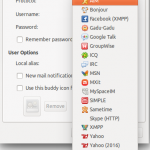 Then, launch Pidgin, and create new Accounts (menu "Accounts >> Manage Accounts").
In the "Protocol" field you should find new comers:
Note that Yahoo login is your full email address (and not only the traditional "login" part)
Troubleshooting
When I first launched Pidgin, those new accounts types were not accessible in the drop down list.
After a little bit of investigation, the only reason I found was that my version of Pidgin was expecting plugins libraries to be stored under /usr/local/lib/pidgin, while above packages were storing them elsewhere.
I simply created appropriate links in the expected directory, and all went fine:
cd /usr/local/lib/pidgin/
sudo ln -s /usr/lib/purple-2/libyahoo-plusplus.so .
sudo ln -s /usr/lib/purple-2/libskypeweb.so .
I'm aware this is an horrible workaround, but it works for me !
Enjoy !
---
Original posts from WebUpd8 :